The newest designs, the most beautiful styles: Cushions, throws & table fashions from Proflax.
Anyone who has a penchant for home-styling is exactly right in the world of Proflax. Here you find cool looks, fine materials – and the highlights of the Spring-Summer Season 2019: exciting 3-D textures, spectacular flower prints and elaborate, hand-drafted design motifs! Super-soft throws in hot pink and summer furs in turquoise! Cushions with subtly shimmering surfaces are indispensable, or glamorous gold and silver effects – they have precisely the hot-factor that we're wishing for now.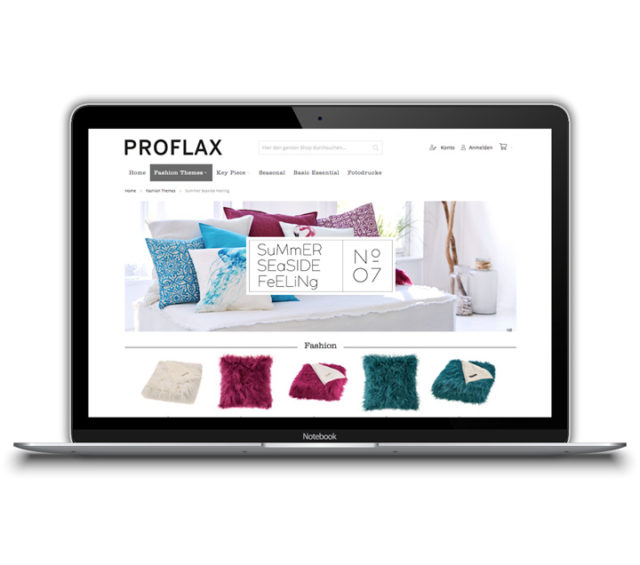 Welcome to your new online shop!
---
Never before has it been easier to re-order: in the new dealers' online shop, we have sorted our entire collection clearly according to categories for you. There you find for each theme not only all the fashion products but also the matching Seasonals, Basics and Key Pieces. So you can be sure that the colours and materials harmonise and your personal selection is always consistent. If you are interested in individual categories such as Basics or throws, you simply click on the corresponding headings. Come on and take a look!
to the B-to-B shop
---
---
Delight in the new looks!
Now in our A/W Collection 2019.
view the collection
Download the catalogue A/W 2019
Simple. Practical. Successful. The Proflax Concept.
More and more trends, changing ever faster, plus what feels like eight to ten seasons in the year – never before was it so difficult to stay on top of things in interior decorating. How to decide what's indispensable for one's own portfolio, what's important, and what's just "nice to have"? We believe it only works when you proceed systematically. That's why this season we have again supplemented our fashion themes with three components: BASIC ESSENTIALS, SEASONALS and KEY PIECES. Out of all four components, you can put together your own personal mixture simply and systematically – and be sure, at the same time, that you are perfectly on trend in colours, materials, textures and designs!
With over 489 solid shades, our Basic Essentials are simply perfect for combining! The colour palette is realigned every season. Basic Essentials are available all year round and can be delivered at short notice in standard sizes.
Have a look at our collection
Catalogue A/W 2019 // Download
New overview of our Basics
---
To make it even easier for you to find your way around, we have now divided up our Basic colours into "Standard" and "Trend": trend colours are always available for only one season; all standard colours, on the other hand, belong to our permanent Basic collection and so can be supplied in the long term as well.
go to basics
Among solids and faux-solids there are seasonal "must-haves", too. We have scouted out the most beautiful of these Seasonals for you. Seasonals are available for one season only. All the standard sizes can be supplied at short notice.
go to Milano
go to Pulse & Now
Out of all the fashionable trends, we filter out the trend objects for you that you simply can't be without – the Key Pieces! We can supply them in many variants.
go to Go for Gold
go to Easy
Exceptional design is handmade by us.

For us, "Made in Germany" means: every stitch fits.

We're on a first name basis with every yarn. And have been since 1864.